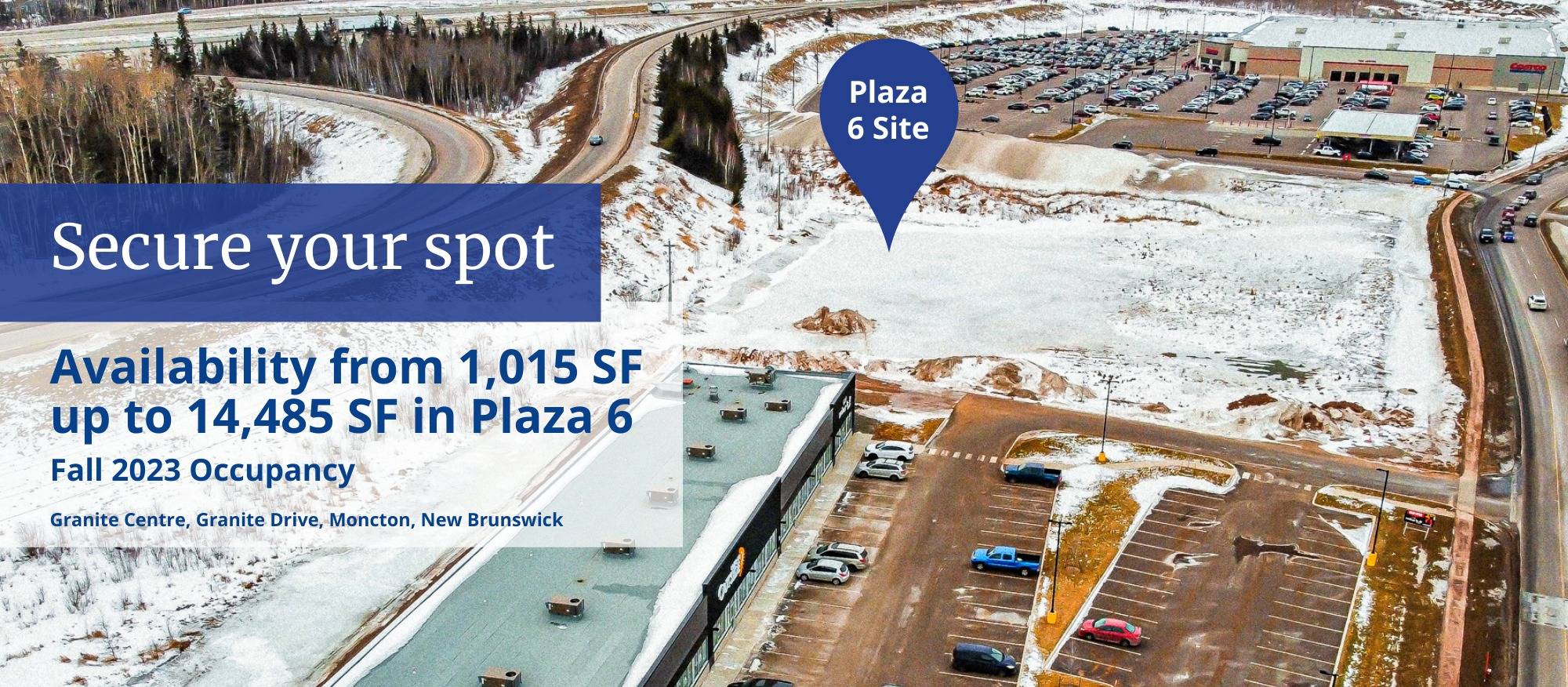 Secure your spot in Plaza 6 at Granite Centre
Looking to establish your business in Moncton's most sought-after retail development? Look no further than Granite Centre! We are thrilled to offer immediate and pre-leasing opportunities, with Plaza 6 now available for pre-leasing. With units starting at 1,015 SF and customizable spaces up to 14,485 SF, we have the perfect solution to suit your business needs. Scheduled for occupancy in Fall 2023, this is your chance to secure a prime spot starting at $24-$25 PSF NET.
Granite Centre is undeniably the hottest retail hub in town, and this is your golden opportunity to join the ranks of renowned brands and capture the attention of your target market. Whether you're in the restaurant or retail industry, we have the ideal space for you, offering a range of leasing options including a stand-alone pad, office space, retail strip, or even a big box store. Discover the available spaces in the Lease Area sections below and take the first step towards becoming a part of this thriving community.
Already, Granite Centre has attracted a stellar lineup of brands and new market entrants that are making waves in Moncton. You'll find renowned names such as McDonald's, Starbucks, Bone & Biscuit, Cannabis NB, Simply for Life, Take It Outside, The Trail Shop, Wingn't It, Taco Boyz, Boustan's, and Elmwood Design Centre, all thriving on-site. And there's more to come! Blaze Pizza, Harvest, and Subway are eagerly preparing to join our vibrant community, bringing even more excitement and foot traffic to the area.
Adjacent to Granite Centre, Costco Wholesale & Gas Bar is already open and bustling, adding an extra layer of convenience and drawing in a steady flow of customers. The strategic location of Granite Centre on Granite Drive, just off Elmwood Drive and the Trans-Canada Highway, ensures unparalleled exposure and easy accessibility. Moncton East, the surrounding neighborhood, is experiencing remarkable growth both in terms of commercial and residential developments. In fact, it was recently announced that a new K-8 Francophone School and Eastgate Academy, a prestigious IB private school, will be constructed mere seconds away from Granite Centre. This presents an unparalleled opportunity for your business to secure a coveted spot in Moncton's most coveted development site.