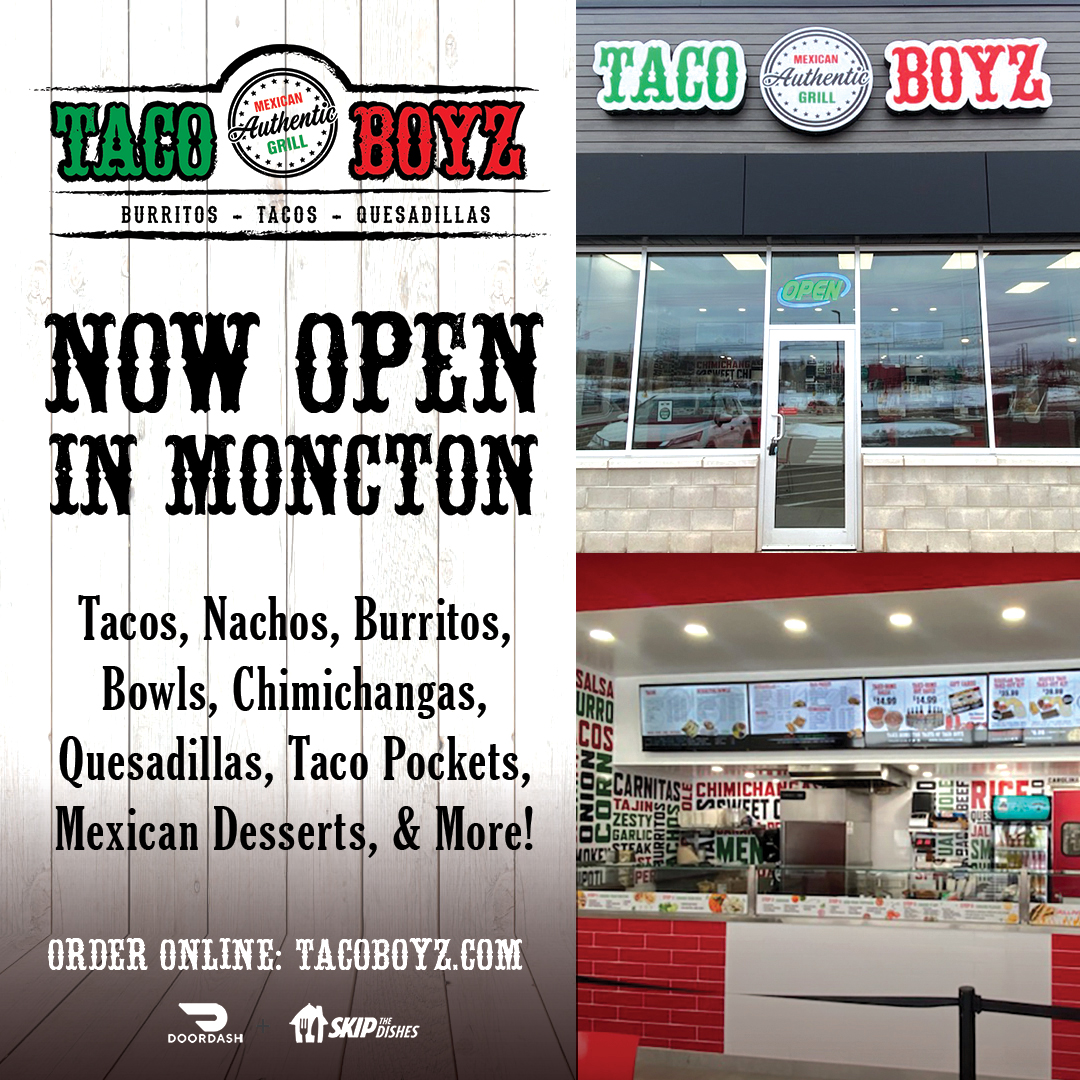 Fresh-made authentic Mexican – Taco Boyz OPENS in Moncton
Granite Centre Moncton is pleased to announce the highly anticipated opening of Taco Boyz! With a mission to redefine the standard for dining experiences, Taco Boyz sets itself apart by offering a unique and exceptional culinary journey. Utilizing high-quality raw ingredients and traditional Mexican cooking methods, their menu boasts a wide range of Mexican-inspired street food that captures the essence of authentic flavors. Taco Boyz takes pride in sourcing locally whenever possible, supporting the community and ensuring freshness in every bite. With a friendly and knowledgeable staff, customers can expect warm and welcoming service that adds to the overall dining experience. Prepare to be amazed as Taco Boyz ushers in a new era of quick-serve dining, where quality, taste, and exceptional food ideas come together harmoniously. Join them as they celebrate their grand opening and embark on a flavorful adventure like no other.
Taste why they're Moncton's new favourite for fresh fast tacos, burritos, bowls, nachos, quesadillas, chimichangas, churros, and much more! Delivery, dine-in, & pickup available!
Fresh-made authentic Mexican recipes

Fresh chips made daily

Fresh, real, locally sourced meats

Our famous signature sauces & dips

Delicious vegetarian options

Tacos, Burritos, Bowls, Chimichangas, Quesadillas, Nachos, Taco Pockets, Churros, & more!

AAA Tenderloin Steak, Pulled Pork Carnitas, Chicken Pollo Asado, Pulled Beef Barbacoa, Taco Beef, Shrimp, Cod, & Fresh Veggies

MONSTER appetites welcome